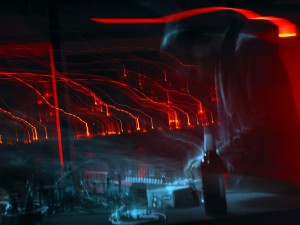 UH Est @ A38, Exhibition Space
Kiss Raymond
I did not expect much, but his set actually turned out to be pretty neat. Nice, minimalistic stuff and a perfect start for the night.
Laser Poodle
I watched a couple of live videos on youtube previously but wasn't very impressed… however they turned out to be pretty awesome. Old school techno stuff. Nothing revolutionary, but what they do… they do it well. I even ended up buying the two CD-Rs they had on sale. (They had couple of tapes as well… but fuck tapes, really! Tape is like the worst format ever. No idea why it became the in thing again…)
Rene Hell
He pretty much seemed to be the fan fave of the night, but well… some of his old stuff was OK, but this was just annoying randomness. Quite disappointing.
Container
Mind blowing destruction! His music is like.. old-school Plastikman. On acid. Just perfect. Each and every moment of it!
Too bad it was so damn short. And too bad the venue was so not made for stuff like this. I mean… it was a vast white room, all clean and nice, while this kind of music belongs to dark and dirty little basement clubs. Anyways, it was a pretty fine night nonetheless.
Ohh, and scroll down for the vids!