Tormentum Festival MMXXI, 2022.06.10. / 11. @ Kapu, Linz
Day 1: Fall Into Dry Lungs (AT), Magadan (CZ), , Uncodified (IT), Sutcliffe No More (ex-Sutcliffe Jugend)(UK)
Day 2: Kadaver (IL), Bruckmayr (AT), Institution D.O.L. (AT), Brighter Death Now (SWE)
Oh, I was missing industrial festival so much. I went to several during the last coupe of years before covid (the last one being Tower Transmission VIII in Dresden) and I was planning to go to two in 2020 (a smaller one in Paris and the annual Wroclaw Industrial Fest), but then of course those were cancelled, just as everything else was. So, when Tormentum Festival was announced with a yet incomplete lineup sometime early 2022, I was already pretty sure that I will be going there, but when two seminal post-industrial acts, Brighter Death Now and Sutcliffe No More (previously known as Sutcliffe Jugend) was added to the bill I instantly made up my mind and started planning the trip.
The two day festival took place in the little, quiet and lovely town of Linz, in Austria in a venue called Kapu (right next to the now defunct Kapuzinerkirche) which is a superb underground club featuring a concert hall with approx. 200 capacity, a bar (with a DJ booth, where DJ Eric of Tower Transmissions fame closed the first night and DJ Deus Ex Machina took care of the second) and another bigger room up on the first floor which was now inhabited by the merch tables and an exhibition by collage artist Patrick Fürli. The lineup originally had nine acts, but Bastard Noise cancelled at the last minute, just a day before the festival. I never saw them live, so I was a bit disappointed, but we still had four acts for each day, so it was OK afterall.
The first act to hit the stage was Austria's own Fall Into Dry Lungs, one of the projects that I was not familiar with. So, I did not know what to expect, but a quick look at the table at the middle of the stage already answered my questions even before the show started: it's gonna be Harsh Noise! And while I am somewhat picky when it comes to noise and usually harsh noise isn't the sort of thing that I listen to a lot, here, the duo's energy and their extensive gear abuse was definitely the best imaginable way to start the festival and to set the mood. And one more thing: the sound! They were handling out ear plugs at the door, but actually, while the sound was loud and massive (and crystal clear), it stopped right where it should be, before passing to ear-destroying level. So, kudos to the sound guy, he did a really great job throughout the festival!
Next one was Magadan, another act I was not familiar with, which is not much of a surprise as, while they've been around 2013, they only released one album (which seems to be impossible to get by now), an EP and a handful of compilation tracks since then. But it turned out to be the nicest surprise of the festival with its old-fashioned, power electronics sound. The Czech act is actually a duo, but half of it (Magdaléna Kiselá aka. MK Vermin) was busy that day with some other engagement, so it was up to Přemysl Ondra to deliver and he did a great job. Honestly, it was "just" really, really typical power electronics, with aggressive, rumbling noise made with a Korg, some pedals and other gear and with the massively distorted whispering and shouting of the balaclava clad vocalist… but for me, if done right, that is the kinda a music that you just cannot go wrong with. And here it was absolutely done right.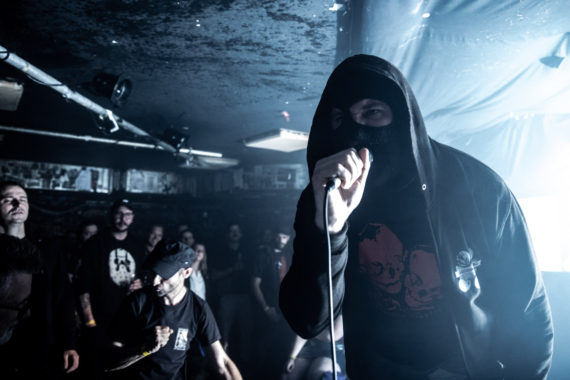 Next one on the bill was more noise, but this time, it was noise of a different kind. I already saw Uncodified at Tower Transmissions VIII and while I liked it a lot, I felt his performance there was just too short, so it was nice to have yet another round of it. As I wrote above, I am kind of picky with noise, but what Corrado Altieri's solo project does is absolutely the sort that I like. Instead of the improvised gear abuse of other acts, his noise is a lot more structured, mostly characterized by a deep, rumbling, pulsing sound. The start of the set was almost subdued, but it became more and more intense (and loud) later on, slowly building up, even featuring some distorted vocals near the end. Uncodified was one of the acts I was looking forward to see and he definitely did not disappoint!
Sutcliffe No More wrapped up day one with one of the best performances of the festival. As Sutcliffe Jugend, Kevin Tomkins' project was one of the pioneers of the UK post-industrial scene back in 1982, but was only active for a short while, disappearing for about 15 years, when it returned as a duo of Tomkins and Paul Taylor. They abandoned the old name in 2020 and after a brief detour as Slaves No More they continued as Sutcliffe No More. And well, honestly: while their old releases were classics of the genre, pushing boundaries harder than pretty much anyone else, their more recent output just does not really do the trick for me. The new tracks are almost all extremely subdued and they just lack the vile intensity that made those classics into… well, classics. So, I wasn't sure if I'm gonna like the show or not, but this soon changed. They opened with Girl With The Flowers off The Unravelling, the only Slaves No More album and in its studio version it is a typical example of those quite, slow SJ tracks that I don't like that much. And while here it started out quietly as well, it soon started to build up, got more and more noisy and tense and eventually turned into a crushing, brutal noise feast of the highest level. And from then on the show never let down. It was an extremely brutal and aggressive trip into the most mean-spirited territories of industrial with Tomkins and Taylor taking turns on the mic. The tracks I could identify from the tracklist, including Akrasia were all recent ones, but were all given the same treatment live, while what was listed as Pig Christ (another one from The Unravelling) was actually more of a mash-up of the title track of their 2008 album Pigdaddy and Pigboy from 2007's This Is The Truth. A perfect closure for the first day!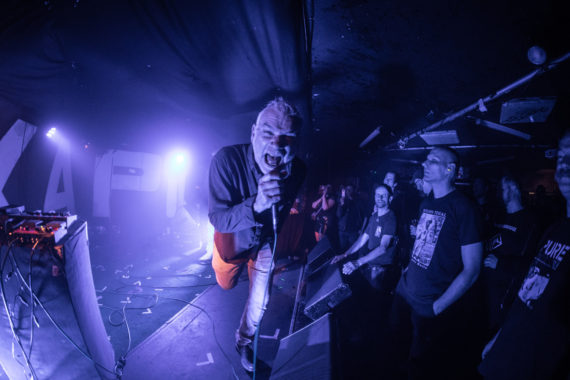 Day Two started on the same note as Day One: with harsh noise gear abuse! This time delivered by Kadaver, the solo project of Michael Zolotov from Israel, who's been active since 2003 with countless releases out. His set was similar to Fall Into Dry Lungs', but while there the two guys were switching control, giving it more variety, this one was a non-stop maximum intensity noise attack. And yet again, a nice way to start the day. Just before things went a bit downhill.
Bruckmayr was definitely the odd one out here. It is the solo project of Didi Bruckmayr and well, I actually understand why he was here: as a member of Austria's infamous and controversial noise rock performance group, Fuckhead he is a seminal figure of the country's underground scene, but still… What he did here was playing generic drum'n'bass of the neurofunk sort from a laptop (switching to techno for two tracks later on) and doing some spoken word and singing in German atop of that. And that's it. And while I have no problem at all with techno or d'n'b it all felt extremely off here. Some enjoyed it, but then again, this was the only gig during the festival when I saw a lot of people leaving the room. Skip.
But then, with Institution D.O.L., led by the festival's main organizer Barbie B we were back on track. Officially a solo act, but playing live as a duo, the long-standing Austrian project added even more musical diversity to the lineup, coming from the more esoteric inspired corner of post-industrial. I am not that familiar with their back catalogue, but they were the act with the most varied sound, switching between pure, hard power electronics and more atmospheric parts, complete with Barbie B's unique singing style.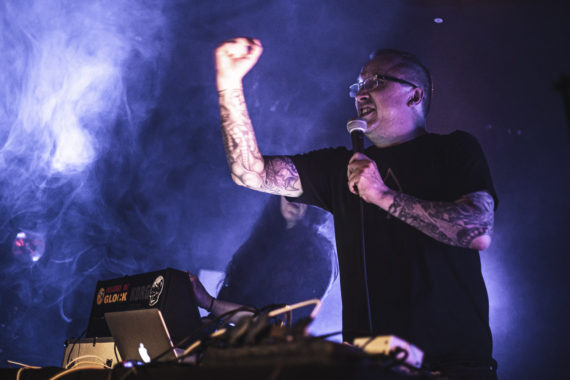 After another round to the first floor to check out the merch stalls, it was time for what for me was definitely the main act of the festival: Brighter Death Now. I saw them live some long, long time ago at Wave-Gotik-Treffen, under very different circumstances. They played there as part of the Cold Meat Industry Day, in the huge and crammed Werk 2 hall and it remains in my memories as a quite extreme show that, besides other stage antics, included Mr. Karmanik pouring beer over the audience. This however was a very different sort of show, not one bit less intense, but clearly by fanatics to fanatics and featured Karmanik and his trusty companion Lina of Deutsch Nepal fame layering heavy guitar noise (using unlikely things, like an electric razor instead of guitar picks) and some distortion and effects over the backing tracks that, besides some older classics included several more recent tunes. They started with Promises Of Death with the similarly titled 2014 album (which is such a perfect opener both live and on the album!) and it was later followed by There Is A Rule and the excellent Sex Crazy Amerika from other newer latest releases. Extremely intense show, wrapped up by a slightly distorted version of ABBA's Thank You for the Music as an outro, finishing the show (and the festival) in typically tongue-in-cheek BDN manner.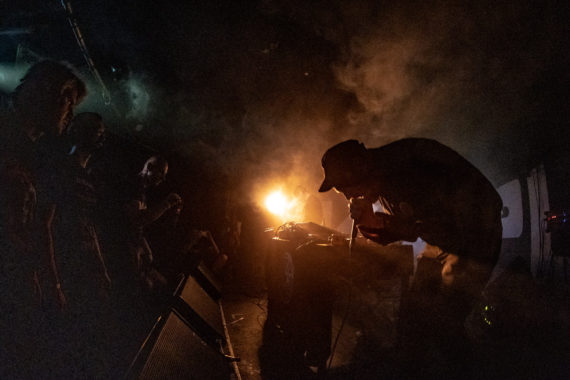 It was a truly excellent little festival, great lineup, nice venue, nice people, excellent sound and some surprise finds at the merch section. Let's hope life indeed restarts now for good and it will be followed by many similar events in the future!